Bitcoin
From Telecomix Crypto Munitions Bureau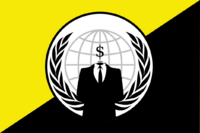 Bitcoin is a peer-to-peer network based digital currency. Peer-to-peer (P2P) means that there is no central authority to issue new money or keep track of transactions. Instead, these tasks are managed collectively by the nodes of the network.
[edit]
Advantages
Bitcoins can be sent easily through the Internet, without having to trust middlemen.
Transactions are practically free, whereas credit cards and online payment systems typically cost 1-5% per transaction plus various other merchant fees up to hundreds of dollars.
Be safe from instability caused by fractional reserve banking and bad policies of central banks. The limited inflation of the Bitcoin system's money supply is distributed evenly (by CPU power) throughout the network, not monopolized by the banks.
Conduct business without a corporation, banking relationship, or contract with any state.
[edit]
Further Links