PirateBox
From Telecomix Crypto Munitions Bureau
[edit]
Summary
The PirateBox box is a portable, concealable, wireless file-sharing machine designed to facilitate anonymous local communication. Only three items are required for a fully-functional Pirate Box: an appropriate wireless access point (detailed later), a physical drive, and a power source. David Darts was the first to publicize the PirateBox, and in his own Wiki he gives a great deal of technical credit to Christiane Ruetten and Matthias Strubel for pioneering the initial software adaptations. The machine has been used as a social experiment/art project, fostering users' happenstance interaction with PirateBox utilities in public spaces such as libraries or coffee shops.
[edit]
User Interface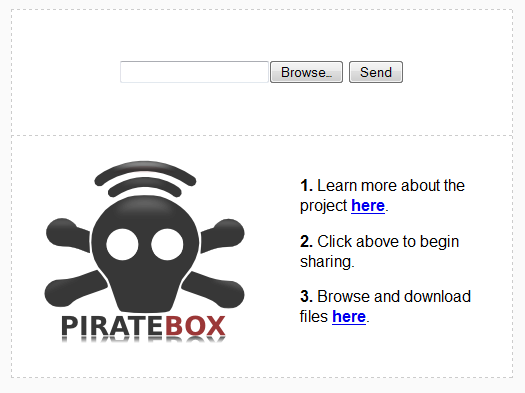 Users can connect via computer, cell phone, or any other WiFi-compatible device to an open network named "PirateBox - Share Freely." When the user attempts to visit any website, the application automatically loads a welcome screen offering a few options (example welcome page on the right). The software features a simple file-sharing interface that allows users to anonymously browse files on the public drive and upload or download files individually. No logs are kept in the PirateBox and no login or user account is required to access the database. The device is designed not to connect directly to the internet.
Hosts have the option of installing PirateBox software with- or without a chat feature.
[edit]
DIY Tutorials by Wireless Device
[edit]
Technical Resources
[edit]
Interesting PirateBox Stories
[edit]
See also